The Bodyguard Holster grew out of a need for a comfortable IWB (Inside the Waistband) holster that was highly concealable, reliable, and easy put on or take off.  This holster is ambidextrous and can be configured for right and left hand carry. Wrap around muzzle design protects the muzzle, keeps your clothes cleaner, and is far more comfortable than exposed versions. The tuckable J-hook allows for full concealment with minimal hook showing. An optional pull-the-dot belt loop kit is available for $10.
The body of the holster is constructed of .080 Kydex. This offers excellent resistance to environmental conditions as well as body sweat. Also normal atmospheric hot, cold, wet or dry will not harm your holster. Other thicknesses and colors are available as a custom order. Although we feel .080 offers the best properties. The .060 thickness will do the job but feels flimsy to most people and sometimes is a little more difficult to reholster. The extra stiffness over the .060 is something IDPA competitors will appreciate. The J-hook made of very strong .125 Kydex.
This style is also called an appendix carry holster. The minimal width of the wrap around construction lends itself to placing almost anywhere on the belt. The appendix carry refers to placing the holster forward of the hip bone or the 2 o'clock position for a right-handed shooter. It is equally well suited 3, 4, or 5 o'clock carry depending on your preference.
As with any screw hardware; it is recommended that after final set up is made that you use threadlocker on the screws to prevent accidental loosening. Loctite 222, purple, low strength or 242, blue, medium strength threadlocker is a good choice for this.
M&P fullsize shown with tuckable J-hook.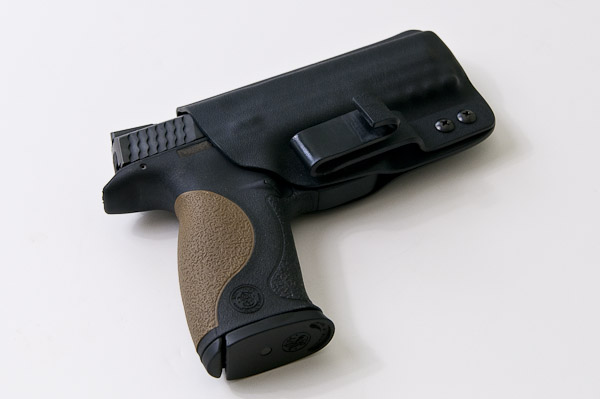 Wrap around design protects your clothes, skin, and muzzle. Ample opening to clear dirt and water.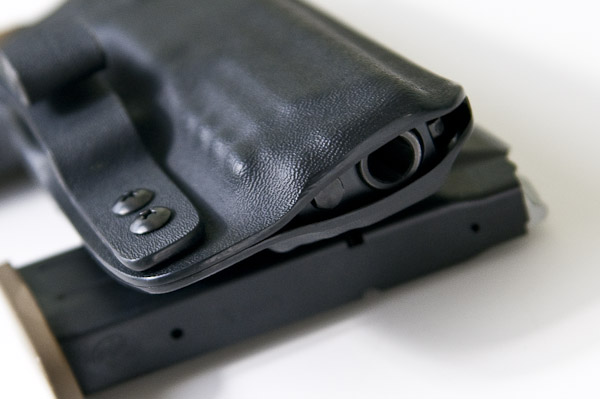 Low profile reduced printing while rounded corners provide comfortable carry.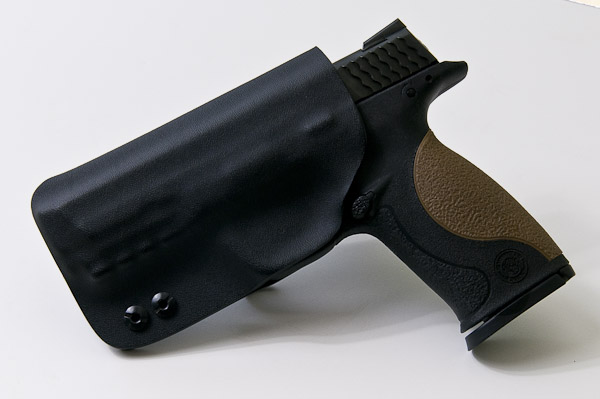 Looking for a over the belt clip on version? Check out the Bodyguard V2.
If you don't see your pistol listed below check out our updated Pistol and Revolver page.