Depending on the figures you look at, between 60-85% of shootings occur in low light. When time is of the essence, having weapon light already mounted to your handgun could be the edge you need.
The MOLLE Weaponlight Holster is similar to the standard MOLLE Holster. It provides full slide protection while minimizing the real estate used on your belt or vest. The additional slide coverage helps protect your rear sight and firearm. Custom lower profile slide coverage is available. Supplied with dual MALICE Clips, the MOLLE Holster mounts easily and securely. There are four vertical height adjustments as well as horizontal mounting. Mounting solutions using G-Code RTI system or Blade-Tech Tek-Lok can be done on a custom basis. If you want added versatility you can get the optional rigid belt loop is available for $10. They are available in 1, 1.25, 1.5, 1.75, and 2" and come with all the necessary hardware. The nearly indestructible Kydex body withstands the rigors of being in the field. Hot, cold, dry or wet is will will not matter. Wrap around muzzle design protects the muzzle, keeps your clothes cleaner, and is far more comfortable than exposed versions. An added benefit is it allows plenty of clearance for drainage. Ares Tactical offers 21 different color and pattern options as well as your custom image infused on Kydex. Something to fit in every environment whether is for conceal carry, out in the field, on the competition range, while on the job. True custom solutions for the discerning shooter. It is not recommended that you use this holster for you pistol without the light/laser attached for which is was molded. MOLLE Weaponlight shown in FDE (Flat Dark Earth) with coyote rivets and MALICE straps for the full size Glock 17/22/31 with Streamlight TLR-1 light.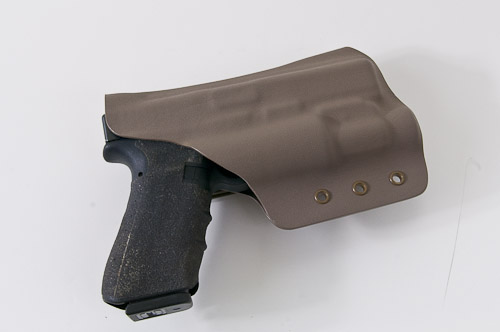 Using the widest holes on the Malice clips you have .75 vertical adjustment. If you use two adjacent holes you 2.25" range of adjustment. These can also be mounted horizontally.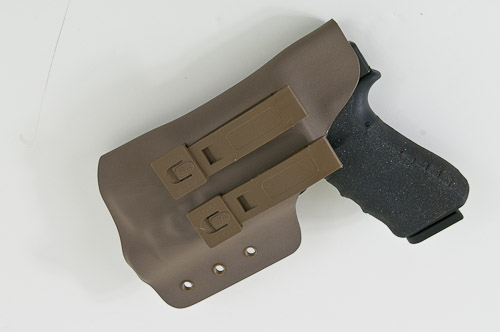 If you don't see your pistol listed below check out our updated Pistol and Revolver page.