This is our Standard holster available in a variety of colors and camouflage patterns. Shown here is FDE (flat dark earth) available for only $5.00 more. It comes standard in black with 1.75" belt loops. Optional, tuckable, J hook,  L hook, and/or pull the dot belt loops allow inside the waistband (IWB) carry for added versatility and concealability. It's like getting two holsters in one. The body of the holster is constructed of .080 Kydex  or for some finishes Holstex. Both offer excellent resistance to environmental conditions. Hot, cold, wet or dry will not harm your holster. Other thicknesses are available as a custom order. Although we feel .080 offers the best properties. The .060 thickness will do the job but feels flimsy to most people. Standard belt loops are made of very rigid .125 Kydex. The Standard Holster and belt loop position allows for six carry heights and different angles. Adjustment will vary depending on pistol length. The highest position of the belt loops allows the pistol to sit lowest on your belt. This will roughly place the trigger guard at the belt level. The belt loops can be dropped down to the next set of eyelets making for a slightly higher ride. Flipping the belt loops upside down with further raise the ride of the holster. Inverting the belt loops for a very high ride, as with any holster, should only be done with a stiff belt. Ares Tactical offers 21 different color and pattern options as well as your custom image infused on Kydex. Something to fit in every environment whether is for conceal carry, out in the field, on the competition range, while on the job. True custom solutions for the discerning shooter.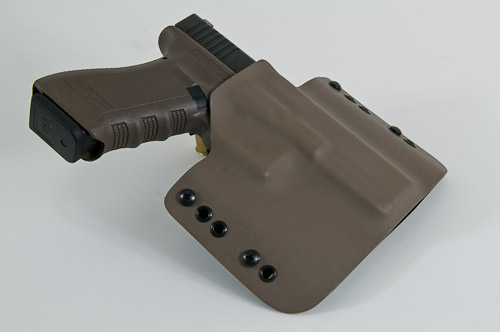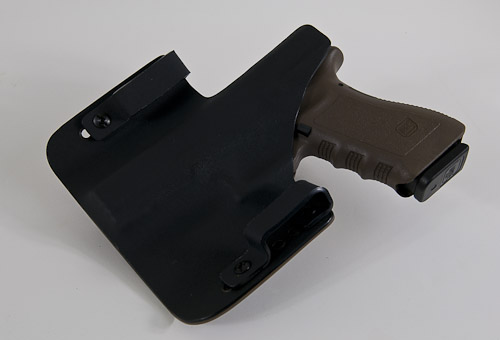 Gently flared edge allows easier reholstering.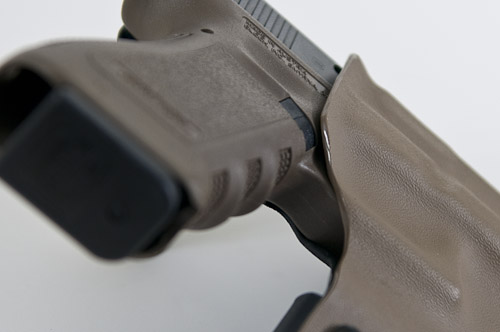 Belt loops can be mounted to adjust ride height and cant.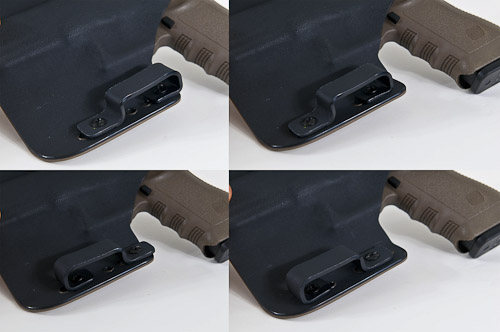 If you don't see your pistol listed below check out our updated Pistol and Revolver page.