Depending on the figures you look at, between 60-85% of shootings occur in low light. When time is of the essence, having weapon light already mounted to your handgun could be the edge you need. Modeled similarly to The Standard Holster, the Weapon light holster can be configured for belt carry or inside-the-waistband (IWB).
Pictured is a Sig Sauer P226 9mm with a Streamlight TLR-1 weapon light in OD Green. The base model comes in black with 1.75″ belt loops. Other color and attachment methods are available. The body of the holster is constructed of .080 Kydex  or, for some finishes, Holstex. Both offer excellent resistance to environmental conditions. Hot, cold, wet or dry will not harm your holster. Other thicknesses are available as a custom order.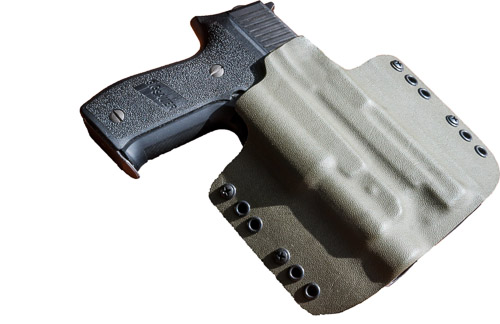 Although we feel .080 offers the best properties. The .060 thickness will do the job but feels flimsy to most people. Standard belt loops are made of very rigid .125 Kydex. Optional J-Hook or soft belt loops extends the versatility of this holster to be carried inside the waistband (IWB). Like the Standard Holster, the Weaponlight Holster has belt loop positions that allow four carry heights and different angles. The highest position of the belt loops allows the pistol to sit lowest on your belt. This will roughly place the trigger guard at the belt level. The belt loops can be dropped down to the next set of eyelets making for a slightly higher ride. Flipping the belt loops upside down with further raise the ride of the holster. Inverting the belt loops for a very high ride, as with any holster, should only be done with a stiff belt.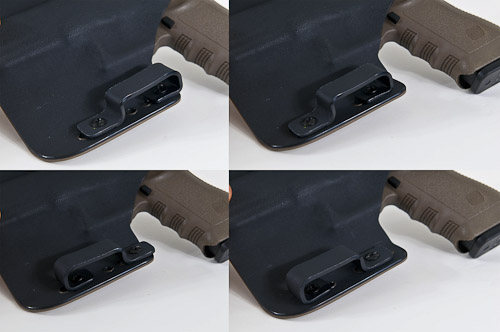 As always , if you do not see your pistol, light, or bells and whistles listed below please contact us. We do a lot of custom work and strive to deliver just what you want. If you don't see your pistol listed below check out our updated
Pistol and Revolver
page.